Gusbourne Discovery Experience
Book a visit Discovery Experience
Your Discovery Experience will begin at 12.30pm as you enjoy a perfectly chilled glass of sparkling while taking in the views across our Boot Hill vineyard. We'll then sit down for a brief tutored tasting, where your host will guide you through two distinctly different styles of Gusbourne sparkling. After the tasting, you'll be left to enjoy a leisurely seasonal three-course lunch perfectly paired with a selection of Gusbourne sparkling wines. Combining delicious wine, seasonal food and a relaxed setting, our Discovery Experiences are a wonderful way to share a taste of Gusbourne with friends and family.
We expect to be finished at 3pm.
£85 per person
Book a visit
Gift a visit
Further information and directions
Directions
You'll find us by turning off Kenardington Road at the junction with Snargate Road, where the Gusbourne driveway is immediately on the left. We are a 15 minute drive from Ashford – you will approach down Kenardington Road and the turning to Snargate Road will be on your left. If you arrive at a crossroads leading into Appledore, you've gone too far.
We are 10 minutes from Rye – you will approach through the village of Appledore, and on leaving the village, you'll arrive at a crossroads where you'll take a right towards Kenardington and Ashford. This takes you on to the Kenardington Road and after a minute or two's driving, the turning to Snargate Road will be on your right. Directions can be found here.
Gusbourne,
Kenardington Road,
Appledore, Ashford,
Kent,
TN26 2BE.
Public transport
We are located just a short taxi journey from Ashford International, with trains departing every 15 minutes from St Pancras International and Stratford International. You can also take the Hastings train from Ashford for three stops to Rye station and take a taxi from there. Appledore station is not served by taxis or regular buses.
We would highly recommend booking a taxi for both journeys to/from Gusbourne in advance of your visit, especially if visiting on the weekend. Our recommended taxi providers are:
Ashford
ETM Cars 01233-629551
Ashford Taxis 01233-646646
Ghurkha Taxi 01233-666771
Express Taxis 01233-884333
Rye
Rye Taxis 07774-633046
Compass Taxis 07542-428182
Parking
You can park free of charge at the vineyard. It is only a short walk from the parking area to the tasting room. We do not have facilities for coach parking.
Accessibility
If you or one of your party have restricted walking ability, please contact us in advance of your visit, and we'll make arrangements for you to be as comfortable as possible, such as using our golf buggies to take you around the vineyards. The tasting room has ramp access, and accessible toilets suitable for a person with restricted walking ability and for those that use a wheelchair some of the time. We welcome registered carers and assistance dogs free of charge when they are accompanying visitors with special needs.
Children
Our hosted vineyard tours last around 2 hours, and our hosted Discovery tours last around 4 hours. Both involve visiting our working winery and feature a guided wine tasting, so are not suitable for children. You are welcome to bring children on a self-guided tour around our estate free of charge, and The Nest serves soft drinks for drivers and under-18s. If you would like any additional advice before bringing children to the estate, please email nest@gusbourne.com, or telephone 01233 884680.
Dogs
You are welcome to bring your dogs on a vineyard tour, but please ensure dogs are kept on a lead whilst on Gusbourne land, and please do clean up after them. We're sorry, but we don't allow dogs into the tasting room or the winery.
Cancellations
If you have booked a ticket for a tour or wine tasting event and you do not arrive for your scheduled booking, then the tickets cannot be exchanged or refunded, unless at our discretion. Any request for a refund or transfer must be made in writing, directed to nest@gusbourne.com. If we cancel your booking in its entirety, you will be entitled to a full refund for the purchase price. Tickets will be exchanged or refunded at the price paid for them, but no further compensation will be paid. To read our full cancellation policy click here.
Visit us
We are a short 15 minute taxi ride from Ashford train station and have a selection of cab companies we can recommend booking for your journey. If coming by car, there is free parking available on site. To read more information on getting to Gusbourne, please visit the link below.
Allergen information
If you have a food allergy, please make a member of staff aware as soon as possible.
Although every effort is made to provide allergen free dishes, owing to our kitchen layout we cannot guarantee cross contamination of any of the following 14 allergens: cereals, cereals containing gluten, crustaceans, eggs, fish, lupin, milk, molluscs, mustard, peanuts, sesame, soybeans, sulphur dioxide & sulphites, tree nuts. Our dishes are therefore not guaranteed as "free-from".
For more information or details of menu ingredients please speak to a member of staff.
We are located just a short taxi journey from Ashford International with trains departing every 15 minutes from St Pancras International. Getting here is easier than you might think.
A hosted tour of our estate, followed by an extended tasting of Gusbourne wines and a casual lunch around the tasting table.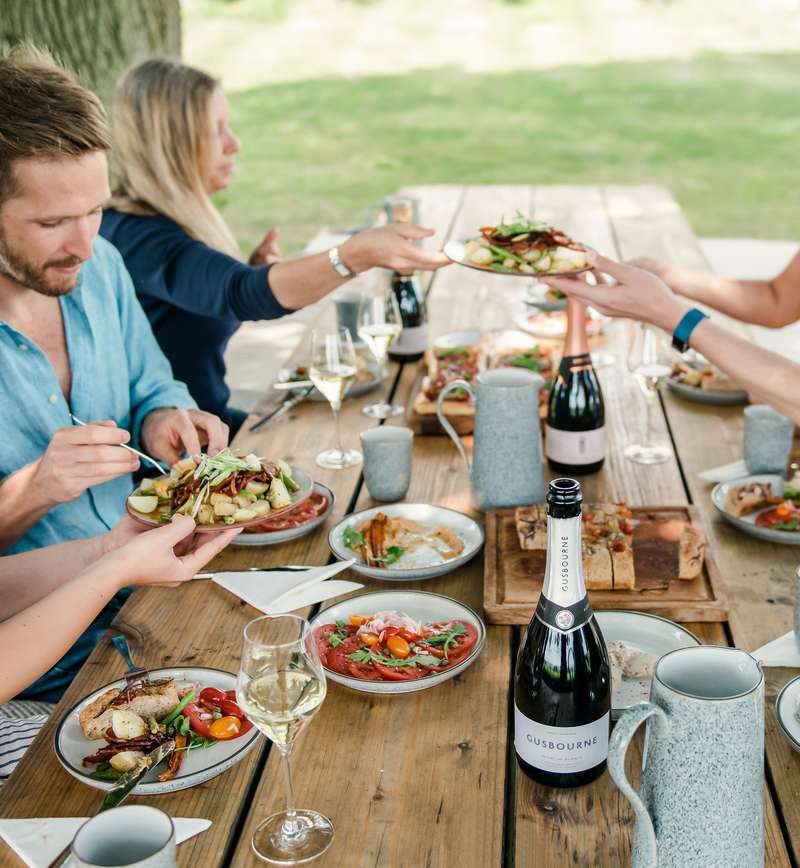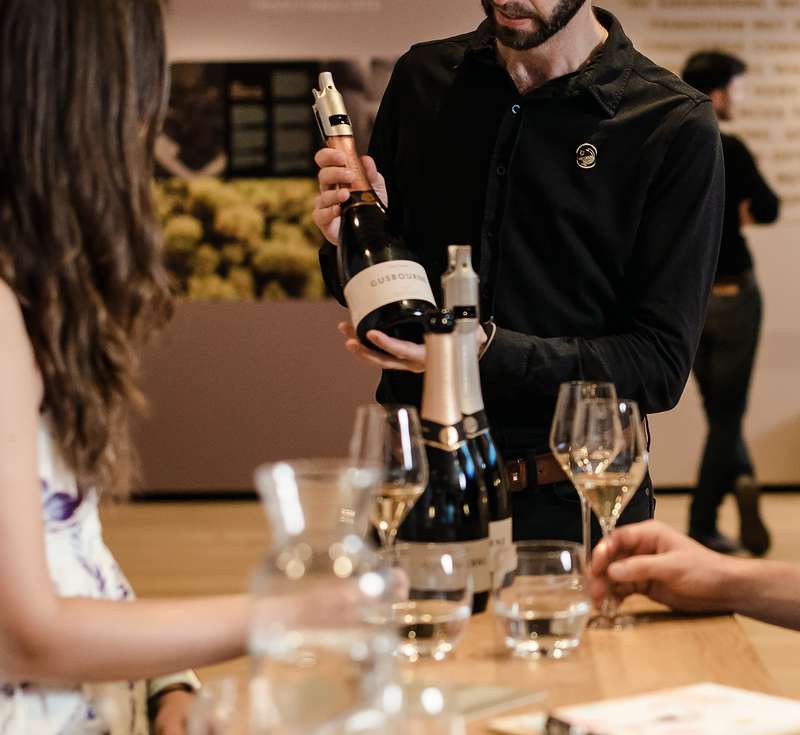 "Really enjoyable tour, probably one of the most informative tours I've ever been on. Our guide on the Discovery Experience was engaging and knowledgeable and led a great tasting over lunch with a mixed knowledge group. The visitor centre is impeccable, and the vineyards are very enjoyable for a walk. If you aren't there for a tour, the staff are still very welcoming and will talk you through their products. Highly recommended!" — Alex
Contact
For any questions email nest@gusbourne.com,
or call 01233 884680.
Address
Gusbourne, Kenardington Road, Appledore, Ashford, Kent TN26 2BE.
Opening Hours
10:00 - 17:00
Daily, Monday - Sunday
Including bank holidays.
Book a visit Discovery Experience
Arrive at 11am for a hosted tour of the vineyards and winery, followed by a tutored tasting in the Nest, including some special wines that don't feature in our standard hosted tour. We will then serve seasonal lunch, designed to complement the wines. We expect to be finished at 3pm.
£85 per person
Book a visit
Gift a visit