Corporate Experiences
Time Well Spent
Just an hour from London, visit our vineyards in Kent, the Garden of England. Host your next corporate event with us, discovering what makes this corner of England so special for winemaking. Our location makes us the ideal day trip from London, within one hour of travel time from London St Pancras. Your guests can get out of the city quickly, and maximise their time with us, enjoying a luxurious experience in a rural setting.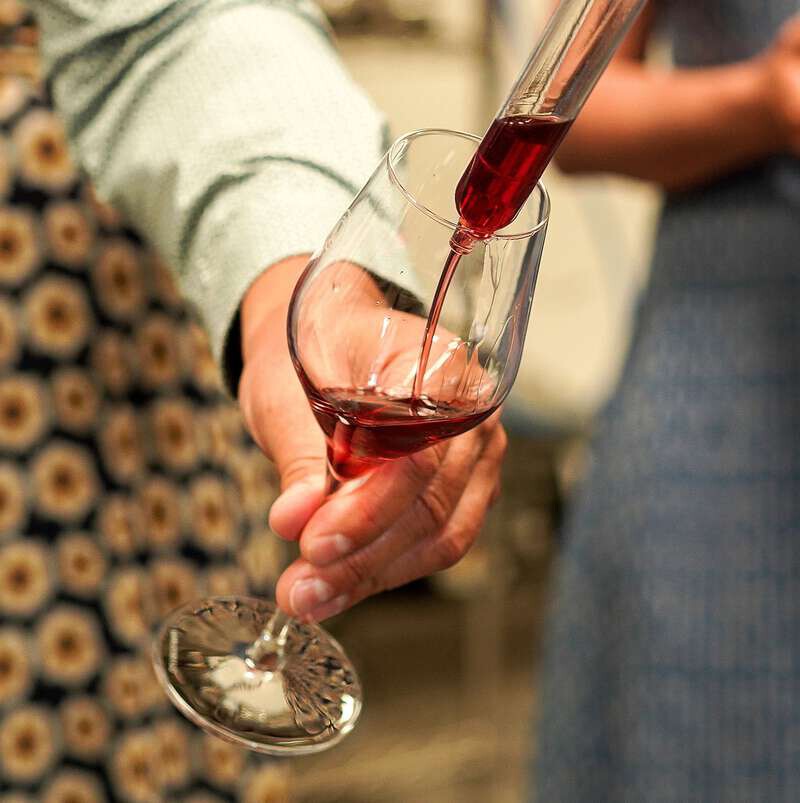 Events and Experiences
Imagine a picnic in the warmth of a vineyard, a glass of wine in your hand, made from the very vines you can see in front of you. Or a three-course lunch hosted by our wine experts in a beautiful tasting room overlooking the vines. Gusbourne creates bespoke events that live on in the memory.
We promise it'll be time well spent. Our tasting room and cellar door, The Nest, is a visual feast of design as well as home to a gallery space that tells the story of how our wines are made.
Your day will be hosted by our warm and welcoming Gusbourne team. They'll explain the history of our corner of the Garden of England and offer insights into the character of English sparkling wine and our unique terroir. Our staff are generous hosts and consummate professionals who will entertain, inform and make your guests smile.
Download brochure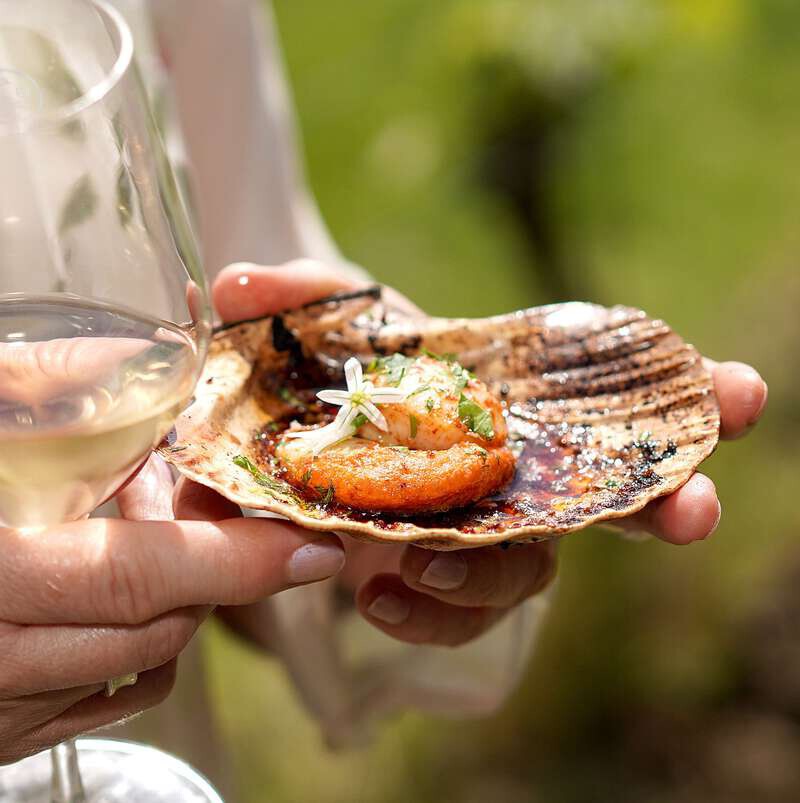 Corporate Gifting
We can also help to personalise gifts for clients and staff that you wish to thank. Choose from one of our beautifully presented, award-winning sparkling wines, or two or three of our wines presented as a gift-boxed set.
Download information
Corporate events at gusbourne
Choose from a completely customised event we'll create with you, or a personalised version of a tour, tasting and lunch, which works like this:
Welcome drinks on arrival, introduction to Gusbourne in The Nest
Guided tour of the estate, vineyard and active winery (approx one hour), either on foot or in electric buggies, stopping for canapés and a tasting of wines in the very vineyards where the grapes for those wines are grown
Winery experience and tasting from the barrel
Back to The Nest for a tutored tasting of three wines, with tasting notes to take home
Three-course locally-sourced, seasonal lunch with Gusbourne wine flight in our tasting room overlooking the vines
A gift-boxed bottle of our award-winning Blanc de Blancs to take home
We can host from 8 people up to 40, (seated), accommodate all dietary requirements and catering preferences, and vary the level of tour detail to match your people's interests and knowledge of wine.
We will gladly help you plan special events. How about a masterclass in food and wine pairings? Or theory brought to life with insights into the ageing process by tasting direct from the barrel in our atmospheric winery? Or discovering the art of blending by tasting a range of single vineyard wines, and then comparing them to our multi-vineyard blends, over a delicious lunch? We offer a range of hospitality options that can be combined to create your ideal event:
Vineyard and winery tours
Lunches
Receptions
Meetings
Tutored tastings
Walk-around tastings
Canapé/food and wine pairing
Interactive wine experiences and workshops with our winemaking and wine tasting experts
Download brochure
Our food
We are advocates for sustainability and provenance when it comes to food, and wherever possible we champion the beautiful produce that is available on our doorstep. Enjoyed with wine made on site with grapes from our own vineyards, the ingredients and dishes that we serve represent the best of the Garden of England's impressive gastronomic offerings.
We design our menus to complement the wines we will serve, and we are always able to adapt them based on specific requirements or dietary needs.
Example three-course lunch menu
Torched cured mackerel, pickled kohlrabi, wasabi emulsion, cucumber, dill oil, pomegranate
Gusbourne Chardonnay 809 2020
Miso and lemon glazed chicken supreme, Japanese slaw, broad beans, crispy noodles, seaweed salt
Gusbourne Blanc de Noirs 2018
Peach, poached in Gusbourne Rosé 2018 and thyme, lemon and poppyseed frangipane, raspberry meringue, crushed pistachio, fresh cream, basil
Gusbourne Rosé 2018
Our facilities
We can accommodate group sizes of 8 people to 40 people for private corporate events, in two inside spaces. These are where we will seat you for tutored tastings, lunches or dinners.
The Nest tasting room can seat up to 20 people around a large central table, and has a balcony overlooking our Boot Hill vineyard.
The Hide tasting room can seat up to 20 people around two tables, and has a balcony overlooking our Boot Hill vineyard and internal window overlooking our winery.
Note that these are two separate tasting rooms and cannot be converted to one large room.
We have a range of outdoor spaces that can be incorporated into your visit, which we recommend for use between April and October as these are weather-dependent. Canapés can be served at these locations alongside our wines, either in an informal standing reception context, or seated for a more formal tutored tasting. They are located a short walk from our inside spaces; electric buggies can be used to transport guests as an alternative to walking.
Boot Hill garden can seat up to 42 people on tables of 6 under large canvas stretch tents, which are open-sided, positioned amongst the vines. This is located a 10 minute walk from the inside spaces.
Boot Hill decking can seat up to 16 people on a large table underneath a magnificent oak tree nestled amongst the vines. This is located a 10 minute walk from the inside spaces.
Commanders decking can seat up to 24 people on 4 tables of 6, underneath a large oak tree in our Commanders vineyard. This is located a 15-20 minute walk through vineyards from the inside spaces.
Audio visual equipment such as LCD TV screens, laptops, speakers and microphones can be provided on request for an additional cost.
If you or one of your party have restricted walking ability, please contact us in advance of your visit, and we'll make arrangements for you to be as comfortable as possible, such as using our golf buggies to take you around the vineyards. Both our private inside spaces are accessed via a flight of stairs, with no lift access available.
Download floorplans
Sustainability
At Gusbourne, we continually strive to ensure our practices are kind to the world around us. As such, we are delighted to be a founding member of the Sustainable Wines of Great Britain initiative set up to encourage English and Welsh wineries to ensure their practices are as sustainable and environmentally friendly as possible. We proud to be one of the first vineyards in the UK to achieve the SWGB accreditation.
Cancellation policy
Once a booking has been made, you may cancel and obtain a full refund if you notify us in writing with 28 days' notice or more, or you can reschedule for a different date. If you notify us with less than 28 days' notice, we will endeavour to accommodate your request or move your booking, but this will be subject to the availability of alternative dates and whether any costs have been incurred. Any request for a refund or date change must be made in writing, directed to corporate@gusbourne.com. If we cancel your booking in its entirety, you will be entitled to a full refund for the purchase price. Full terms of supply are available here.
Faq
Dress code. Our guided tours involve walking over uneven (and sometimes muddy) ground. We would encourage you to bring stout shoes or boots that are comfortable for walking in, and coats and umbrellas if it looks like rain. Please contact us in advance of your visit if you or one of your party have restricted walking ability. We will spend as much time in the vineyard as the weather allows, and we also have plenty of space under cover, so your visit will still go ahead in inclement weather.
Confirmation. Confirmation of numbers and dietary requirements must be finalised with 14 days' notice.
Payment. We will invoice the person who completes the booking, unless otherwise notified and payment is due on receipt of invoice. We require payment in advance of the event in order to confirm the reservation, but we are happy to make changes up to 7 days before the booking date, based on the number of people attending, menu choices etc.
Dietary requirements. We like to offer wines to complement our menus; as such we do not offer menus for each guest to select from, but a set menu enjoyed by the whole party. Please do let us know the dietary requirements of your guests in advance, and we will be happy to cater for these.
Soft drinks and water. Complimentary still and sparkling water is provided for all guests, and for non-drinkers, a range of juices and sparkling cordials are available.
Responsible drinking. As a vineyard, it is our policy to encourage responsible drinking and our licensing requires that we do not serve alcohol to those that appear to be intoxicated.
Cloakroom. We provide cloakroom facilities for storage of coats and bags as standard.
Timings. Our standard opening hours are 10am-5pm and the last departure from Gusbourne during a daytime visit is 5pm. Evening events and later departure times can be accommodated on request. For evening events, our latest departure time is 9.30pm.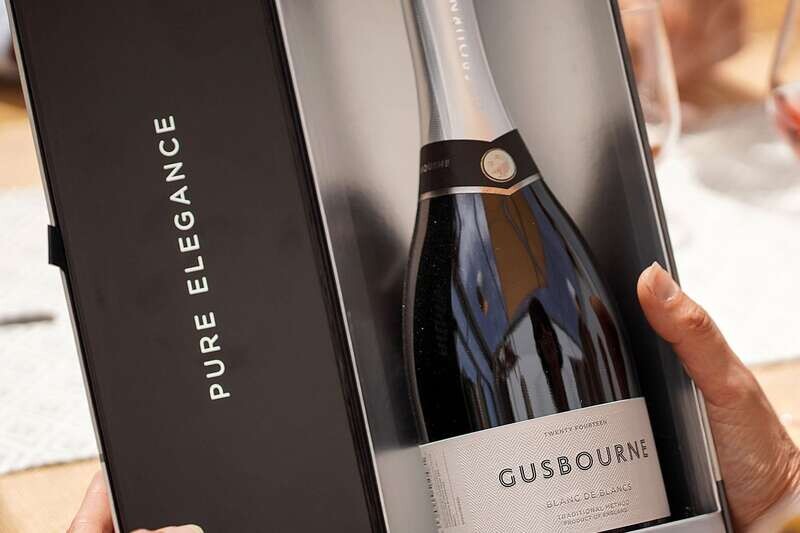 I wanted to say a huge thank you to Gusbourne for making it a fantastic day for all. 
Everyone had a wonderful time, and it was so good to finally be able to do something as a team. The wine and food was absolutely delicious, and the tour was very informative too.
Gusbourne team, I just wanted to say a big thank you: everyone had a fantastic time and I'm already being told to plan next year's trip! Our guides were great and very knowledgeable, and we really enjoyed the relaxed format of the day. It was an ideal first team event after the last year and a half.